In 2016 an idea born on twitter led to a series of nationwide events in a matter of weeks. The inaugural Small Press Day – a celebratory event designed to spotlight the possibilities of small press publishing and to introduce its practitioners to the far wider audience they deserve – proved to be a phenomenal success. No less than 25 events championing the small press were held across the UK and Ireland on the same day in July – including shop signings, fairs, panels and workshops – resulting in #SmallPressDay to trend throughout.
We continued to build on this trend in 2017 and 2018, and in 2019, we celebrated the biggest Small Press Day to date.
2020 sees our fifth birthday and in celebration of being five years old, we had planned to make Small Press Day bigger, better, and bolder. But like everything this year, Covid-19 has pooed pooed our grand plans.  And so, SPD will have to be a little different this year.
Join us on Saturday 15th August for Small Press Day 2020 ONLINE!
At its heart SPD is about connecting small press artists and comic shops. This year we may have to be apart, but you can still take part and join us in celebrating and supporting our small press community – artists and shops alike.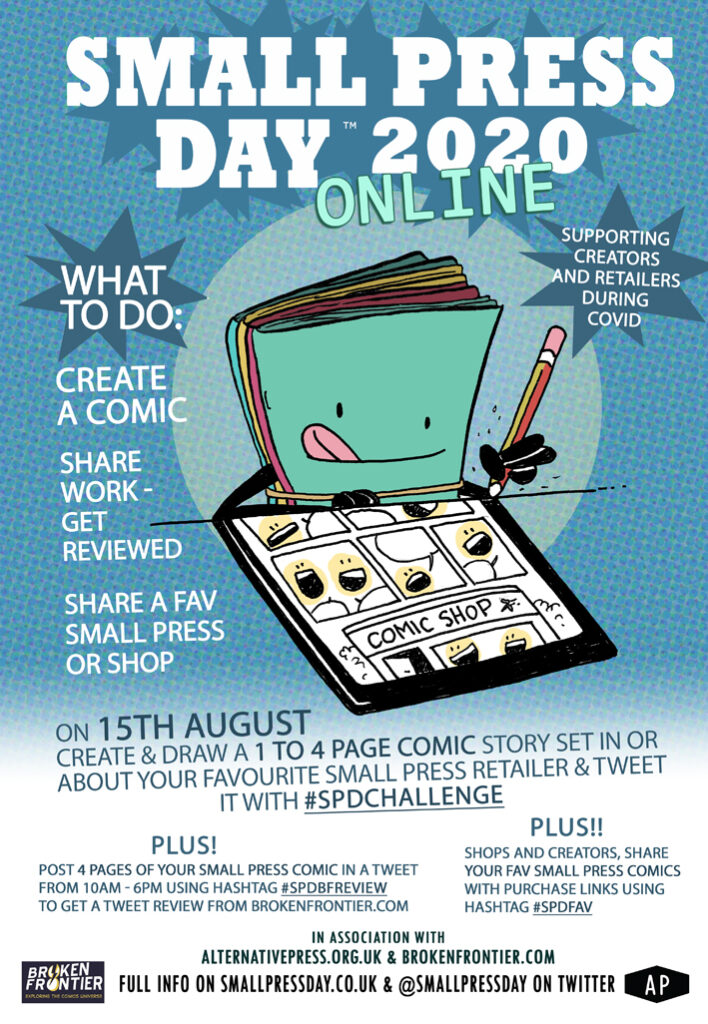 How to take part:
Draw a one to four page comic set in or about your small press retailer of choice and tweet it to us on Saturday 15th August with #SPDCHALLENGE
All comics, tall tales, odes, social commentary, and guest appearances from your very own small press characters welcome!
From 10am to 6pm, post four pages of your small press comic in one tweet with #SPDBFREVIEW to receive a one tweet review from Broken Frontier's Editor-in-Chief, Andy Oliver!
On Saturday 15th August, Andy will be by his laptop in his hat with his pencil ready to review self-published comics he's not reviewed before *
Choose four of your strongest pages of visual storytelling and tweet him with a link to your online store. Andy will then quote tweet in reply with a one tweet review of your comic from @brokenfroniter! Don't forget to include #SPDBFREVIEW
FAQs answered here (plus an exciting announcement – news of a bonus extra for 6 lucky artists!)
* We reserve the right not to cover content that may be considered inappropriate or harmful to our community
Shops and creators, share your fav small press comics with purchase links with #SPDFAV
Join us and take part  – and lets spread SPD love on Saturday 15th August!
Reminder: follow us on twitter and on instagram for the latest info and updates. See you 15th August x